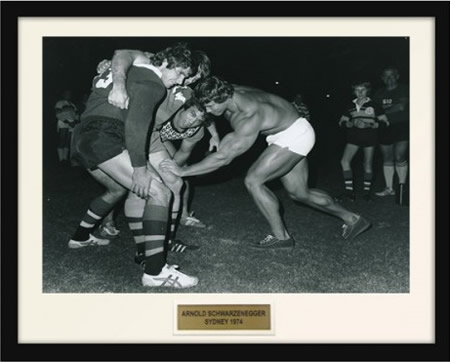 On his 1974 tour, Arnold was brought over to watch a training session for the Eastern Suburbs Roosters Rugby League team in the football grounds at Moore Park, Sydney. This is a team that included the late great Arthur Beetson. He was coaxed into taking a photo with some of the players. As it was a cold night, Ron Coote offered to loan Arnold his Shoes as there was frost on the grass.
Arthur Beetson was an Australian rugby league footballer and coach. He represented Australia, NSW and Queensland from 1964 to 1981. His main position was at prop. Beetson became the first Indigenous Australian to captain his country in any sport and is frequently cited as the best post-war forward in Australian rugby league history. He also had an extensive coaching career, spanning the 1970s to the 1990s, coaching Australia, Queensland, Eastern Suburbs, Redcliffe Dolphins and the Cronulla-Sutherland Sharks. On 1 December 2011, Beetson died after a heart attack, aged 66.
Arthur Beetson wanted to get in on the act and you can see him in the Scrum. The photo was arranged by Robert Nailon and is similar to a photo taken by Russ Warner of Dave Draper.