Arnold Schwarzenegger – Lifting the American Dream!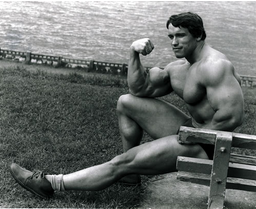 It is hard to think about what Arnold Schwarzenegger has achieved is his life. Starting off as a professional bodybuilder – he began weight training at the age of only 15 – he is the true image of someone who can be successful in more areas. Getting famous with being seven times Mr. Olympia champion, which is the highest degree of recognition a bodybuilder can get, he decided to go into acting. Even despite the start of his acting career, Arnold has simultaneously written many books and articles on the topic of weight lifting and bodybuilding. With roles such as Conan the Barbarian and Terminator he consolidated his acting talent in bringing exactly what Hollywood need. If you would think that going from bodybuilding to acting is hard, try going from acting to governor. His story, no less impressive that than of Ronald Reagan, Arnold sailed into political waters and was elected the 38
th
Governor of California in 2003. Beside all this he is also referred to as smart investor and a businessman to boot. In 2007 he was reelected as a Governor of California as a Republican candidate. Not many people have so much to be proud of as Arnold. Only a fraction of bodybuilders succeed in their acting careers, despite the impeccable body stature. On the other hand, very few actors are able to cross the bridge to politics. Arnold Schwarzenegger, however, is the only person that managed to do both of these transactions very successfully. In such a way he has shown people what American dream is all about and lifted the standards for all others walking in his footsteps. He is the essence of man's versatility and shows that physical and mental strength can go hand in hand in order to achieve greatness. The only question remains is what will Arnie do next to inspire and motivate us to do better.
By Scott Nailon