At The Arnold Collection we love getting quality feedback from our customers!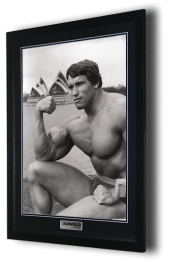 When we receive negative feedback we get to work right away fixing what ever the problem may be (though this doesn't happen very often). When we get quality feedback we display it in order to show our customers are happy with our products!
If you have feedback which will help us improve our products and services, or even a positive testimonial, please submit it to us through our contact form and we will reply you as soon as humanly possible! 
Robert Kennedy
…I've always been your number one fan. You know I have always regarded you as the world's most knowledgeable trainer.
Robert Kennedy
Muscle Mag International

---
Andrew Lock
Thanks Scott for the Arnold poster!
It is more than I expected. There are a lot of Arnold posters on the internet and I've been waiting for the day your father's photos would finally be available. I know the amazing clarity and focus of the photos your father took and I consider myself fortunate for getting photos from him over the last 20 years. But this poster is better than I could have wished for, I have an 8×10 of this shot from your father's original negative, and the resolution of your poster is just as good. There will never be posters of this quality available anywhere I am sure. The paper quality is excellent and the right thickness.
You need to let people know about the quality from the original negative image, inks and the paper. These will become serious collector items for the future. I'm getting in before the price rise! So how good is the poster? This is what happened:
The first day I framed it up and put it in the lounge room I had a group of real estate agents come through my house that I'm selling. As they were walking about I heard this loud thud/bang and I turned around, one of the agents had walked into my living room windows. There were about 15 agents laughing at the poor guy and he explained to me he that what had happened was that he couldn't take his eyes off the Arnold poster and was so distracted that he walked into the window. He took your details!
I look forward to ordering your next poster!
Deepest Regards
Andrew Lock – IFBB Pro Judge
---
Kris Gethin
Not many people have got to know the greats of Bodybuilding but Robert has created a relationship with most.
Guys like Frank Zane, Franco Columbo, Tom Platz, Arnold Schwarzenegger, Reg Park and Bill Pearl to name a few all speak of Robert the same way that I do when I mention his name, and it is of no wonder. Robert Nailon to me is what bodybuilding is all about. He has a true passion for bodybuilding and has amazing stories of the golden era that only a few know of. Luckily, he captured many of these moments, and more, on film. His published and unseen exclusive images of the greats, such as Arnold, are definitely ones to be collected and treasured. An amazing bodybuilder himself, Robert truly understands how to capture physique photography at its best. I am proud to call Robert a friend with a humble attitude that lasts lifetimes, just as his images.
Kris Gethin
Kaged Muscle
---
Jerry Brainum
Robert Nailon is the one of most talented and artistic men I've ever had the pleasure to know in bodybuilding. He is not only a top caliber photographer, who has shot some of the greatest icons of the golden age of bodybuilding, but he is also a wonderful artist. As a bodybuilder, he wasn't too shabby, either! His photographs are, without question, works of art of the highest magnitude.
Jerry Brainum
International Bodybuilding Author
---
Paul Power
I have known Robert Nailon since the1970's. In 1974 he was featured on every Marvel and DC comic book in bodybuilding ads.
Robert has always been a wonderful artist and writer. His photography of the many famous bodybuilders who graced the beautiful shores of Sydney beaches ranks right up there with the photographers of Muscle Beach and that of the Joe Weider bodybuilding magazines. A famous bodybuilder and a legend in his own right in Australia is well known. His efforts in photographing Arnold are unique and insightful. Remember this folks. Robert Nailon is an artist and he has used his artistic schooling to capture Arnold at his very best. Just take a look or better yet buy some prints and marvel at these majestic works in your own home.
Paul Power
Adventure cartoonist and Hollywood storyboard artist
---
John Oconnor
I would like to express my gratitude for the quality and professionalism of my recent purchase.
I found your online store and purchased some of your images from your "The Arnold Collection" and found the ordering process was quick, easy and on time. The images I received were of the highest quality, well packaged and the size was just perfect. On opening the cylinder I was surprised to see the beautiful images of Arnold in his youthful days. I am in the process of framing the images and placing them in a prime position at our local gym.
I wanted to write to express my thanks for the quick turn around and for the quality of prints I received. The only slight problem was trying to get our patrons back to 'working out' as many spent their gym time staring at the photos and reminiscing about the old day.
As a young kid I trained in Robert's gym. Randwick Fitness Centre. I remember those days so clearly to day as if they were yesterday. Training with legends from everywhere! Robert Nailon always was there. He loved the gym and was always ready with a story or two from the old days. A few of us would train every day. Some won a few shows, some trained for fun and many just loved the atmosphere. Around the walls were images of the champions. Painted and photographed images of Arnold, Bill Pearl etc. The gym was a place where everyone trained hard. This was an era where there were no mobile phones, no gym music and no wild routines. You trained hard heavy and long. 

I had the opportunity to see many of the original images you see today. The quality was so impressive. Some 30 years later I still have one or two of these photos. If mine can last that long then with modern print qualities I can tell you that they will last a lifetime. I always liked the Opera House shot. Buy one or buy a few. Imagine the one and only just above the bench press in your house.
Thanks Rob for providing us with memories from the real bodybuilding era. Again thanks for the memories
---
Steve Speyrer
What a wonderful friend! I remember reading about Robert Nailon in the physique magazines, many years ago. He bore a remarkable resemblance, to TV Star "Mickey Dolenz" from the popular television show "The Monkees".
Not only was Robert a great bodybuilder, but writer, photographer, gym owner and artist, among being one of the nicest people in bodybuilding… that I've ever met. His physique was the closest to a Larry Scott, that I've ever seen.
I'd love for him to write a book on his experience, inside the world of bodybuilding, including many of the photos of his once famous gym and the stars that trained with him there, along with his magnificent artwork.
His tips of training alone… would make a fantastic contribution to the sport and industry.
All the best to my friend Robert! Life is a richer experience from knowing you.
---
Chad Pickeral
Thank you for releasing Training Routines for the Golden Era of Bodybuilding by Robert Nailon in eBook format! Nailon has given us a very inspirational look at the world and workouts of bodybuilding during the Golden Era. Robert Nailon offers a fantastic quick read that outlines training routines for those who want to gain muscle or lose some weight.
Training Routines for the Golden Era of Bodybuilding is inspirational and motivational for those just wanting to get fit, those who are just beginning a life of bodybuilding, and those who are advanced in bodybuilding. I found Nailon's descriptions of his training methods and examples of how he has encouraged and helped others develop training routines particularly helpful and insightful.
Thank you again for releasing Training Routines for the Golden Era of Bodybuilding in eBook format. With its encouraging tone and helpful hints along the way, I am very satisfied with my purchase and look forward to future publications!
---
Roger Morison
If anyone should ever write a history of Australian body building, the name Robert Nailon will feature prominently. This popular gym owner and artistic body builder photographer has not only won the Mr. NSW title and received numerous Australian best poser awards, he is also recognised internationally because of several appearances on covers of American and English muscle magazines and as the official face (and body) of 'bullworker' body building equipment. A friend and training partner of legendary greats as Pearl, Scott and Schwarzenegger, Robert has been an inspiration and source of valuable nutritional and psychological information to all of us long acquainted with the world of muscular development.
Roger Morrison
MA (HONS) Former Gym Owner
---
---