---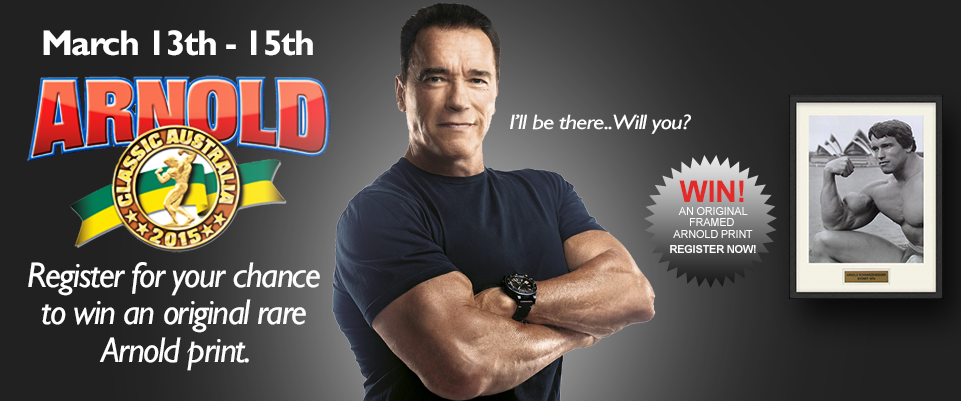 The Arnold Collection will be exhibiting at the Arnold Classic in Melbourne on March 13th – 15th 2015
With only eight weeks to go, The Arnold Collection has decided to exhibit at The Arnold Classic 2015 in Melbourne Australia.

It would be stupid not to have a booth dedicated to the man who literally took the world by storm with his bodybuilding. So we decided we are going to display "The Arnold Collection!"


At the booth you will see a large collection of unreleased Memorabilia and assortment of posters to purchase. 
REGISTER NOW FOR YOUR CHANCE TO WIN!
THIS ORIGINAL FRAMED PRINT
Just by registering you also have the chance to go in the draw to WIN a one off, original framed print, developed by the photographer himself 'Robert Nailon' in his own private darkroom.
PLUS – Your registration ticket also allows you to be eligible for a 50% discount on a poster of choice, held at The Arnold Collection booth within the Arnold Classic Expo.
Register Now and come by and check us out at "Booth 199"
*The winner will be announced on Sunday the 15th March at 1pm at The Arnold Collection Booth (Booth 199).  If not present on the day, the winner will be notified by email. (*Time of draw may be subject to change).
To take advantage of our great offer and competition follow the steps below!
What to do:
Step 1: Register & pay for tickets through The Arnold Classic Official Site.
Step 2: Go to our Event Page and register for our sub event (ensure your details are correct).
Step 3: Check your registered email & print the ticket which is attached to the email sent to you by Eventbrite.
Step 4: Present your ticket at our Booth at the Arnold Classic 2015 (Before Sunday 1pm)
Step 5: Be at the booth at Sunday 1pm to see the drawing out of registered tickets.
– – – Your ticket will also get you 50% off one of our great posters on the day that you present it! – – –
Are you attending The Arnold Classic? 
For further details on The Arnold Classic, Click Here!